In this video, we're going to talk about how you can stop frying your brain with your cell phone using anti emf headphones.
DATA:
The Epoch Times just released a new article on 10/5/2023 explaining how the US has rigged the testing of radiation effects on cell phones. Read it here: https://www.theepochtimes.com/health/us-cellphone-radiation-tests-are-rigged-ignoring-long-term-health-effects-expert-5495312
That's why its more important than ever to protect your brain from the radiation and EMF frequencies. Here are the products recommended by Dr. Eric Berg:
Anti EMF Headphones: https://amzn.to/48CAWqh
Phone Adaptor: https://amzn.to/46gk877
USB Adaptor: https://amzn.to/46Cl6Kt
Timestamps
0:00 How to stop frying your brain with your cellphone
0:11 What are EMFs?
3:19 EMFs demonstration
4:55 Radiowaves/microwaves
5:21 Your cell phone and EMFs
6:10 How to avoid EMFs from your cellphone
10:15 Need keto consulting? Call this number!
EMFs are electromagnetic fields, which is a kind of invisible radiation that many electronic products emit.
Did you know that your phone emits microwaves? These are the same types of waves that you use to cook or reheat your food.
EMFs are not regulated by safety codes at this time. This means that there may be dangerous amounts of EMFs around you without you knowing about them.
Many people do not consider EMFs dangerous. Keep in mind that there was a period that people did not consider asbestos, sugar, or cigarettes dangerous either.
The higher voltage a power source is, the more EMFs it radiates.
If you're sleeping at night and you have a light source and your electronic devices right next to you, you could be absorbing large amounts of EMFs throughout the night.
Interestingly, when you turn off the light switch or turn off a lamp, the EMFs do not go away. This is because there is still a live/hot wire with electricity that is generating EMFs.
The only way to eliminate these EMFs is to unplug the device from the wall.
When you're using your cell phone, and you're holding it up to your head, you are exposing your brain to a significant amount of EMFs.
You can limit your brain's exposure to EMFs during phone calls by wearing anti EMF headphones while making calls. I use the antiradiation air tube headphones with a microphone.
If you would like to check for EMFs in your home, check out the TriField EMF meter model TF2—this is what I use. This device is simple and accurate.
Dr. Eric Berg DC Bio:
Dr. Berg, age 58, is a chiropractor who specializes in Healthy Ketosis & Intermittent Fasting. He is the author of the best-selling book The Healthy Keto Plan, and is the Director of Dr. Berg Nutritionals. He no longer practices, but focuses on health education through social media.
DR. BERG'S AMAZON SHOP : https://bit.ly/3iEvZUw
Follow us on FACEBOOK: fb.me/DrEricBerg
Send a Message to his team: m.me/DrEricBerg
ABOUT DR. BERG: https://amzn.to/3rBwUhn
Disclaimer:
Dr. Eric Berg received his Doctor of Chiropractic degree from Palmer College of Chiropractic in 1988. His use of "doctor" or "Dr." in relation to himself solely refers to that degree. Dr. Berg is a licensed chiropractor in Virginia, California, and Louisiana, but he no longer practices chiropractic in any state and does not see patients so he can focus on educating people as a full time activity, yet he maintains an active license.
This video is for general informational purposes only. It should not be used to self-diagnose and it is not a substitute for a medical exam, cure, treatment, diagnosis, and prescription or recommendation. It does not create a doctor-patient relationship between Dr. Berg and you. You should not make any change in your health regimen or diet before first consulting a physician and obtaining a medical exam, diagnosis, and recommendation. Always seek the advice of a physician or other qualified health provider with any questions you may have regarding a medical condition.
Thanks for watching. I hope this helped explain how you can limit your exposure to EMFs. I'll see you in the next video.
My Anti EMF Headphones Receipt:
Since watching this video in 2021, I've owned a pair of these emf radiation free air tube headphones that I use whenever I listen to music or talk on the phone. In full transparency, my phone adaptor was bought at Walmart, not Amazon. I also don't have an adaptor for my computer as I use gaming headphones for that.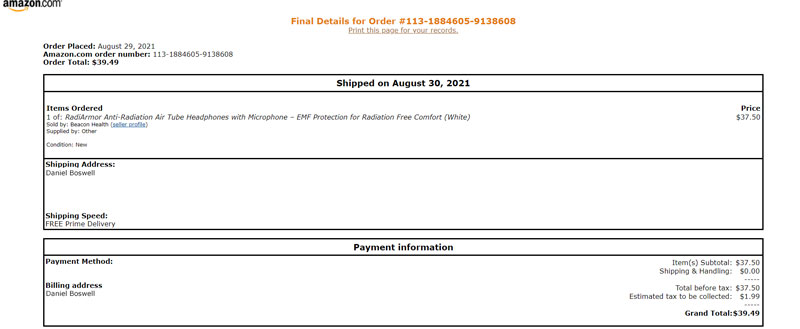 ---